Take Stunning Baby Photos And Portraits By Using These Ideas And Tips For Creative Baby Poses And Pictures
Planned baby poses seldom turn out the way that you had hoped. Babies are unpredictable to the point of being impossible so you have to learn to go with the flow by capitalizing on each moment possible, whether they are in their bouncers, walkers, joggers, baths or just sleeping.
I've even managed to get some cute photos of my baby in her high chair although her face was covered in chocolate.
If you are interested in learning more about baby poses and how to photograph your baby easily, I have written a special 28 page report called
Fabulous Baby Photography
(Find out more below) which will help you capture great pictures of your baby, creating lasting memories during the stages of their lifes when they change the most.
A baby's first portrait is usually taken when they are three months old. Props, toys or parents out of the shot should be used to hold the infant in place securely for these types of photo shoots.
I love how the unique and creative photo below has turned a simple flower-pot into a useful prop for holding the baby in place while you photograph it.
The black background is brilliant for bringing out the paleness of the babies skintone. I love these types of natural baby poses.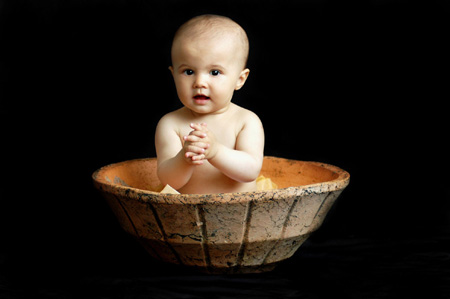 Photo by Simona Balint
You could also try colorful fuzzy blankets. They work well when they are laid over blocks high enough to support the infants head. Another angle would be to lay the baby on his or her stomach. At this age, infants are capable of pushing themselves up with their arms and looking around. This can make a great shot, especially if you can capture a smile too.
Look at this little fellow, he is having great fun dressed up in a Santa hat and clothes, laying on his cosy red blanket. A great posing idea for making your own customised Christmas cards.
When you're posing babies for portraits when they've started crawling, all the rules change. Your biggest problem now is to keep them in one spot long enough to capture a grin while keeping their arms and legs in a proportionate stance.
Let the parents and other family members help with the modelling if they can bring out a certain smile with gestures. Sometimes distracting the little one with a bunch of keys or teething rings work well.
Many times, however, the parents are nervous and the child senses this and cries. Have a supply of toys on hand that will divert their attention in this case. Baby poses and portraits featuring a playful mood are the best.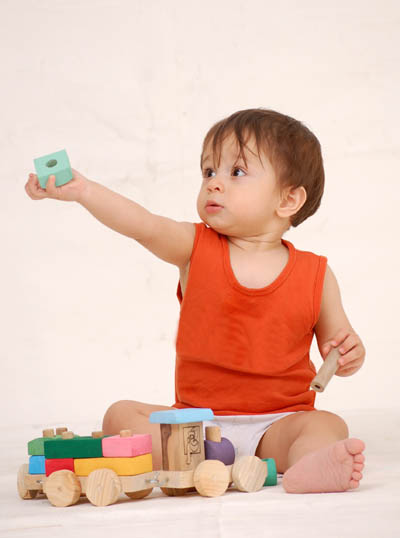 Photo by Ehsan Namavar
The inquisitive nature of a young child may cause them to crawl around the studio wanting to discover new things. Have your studio set up to be able to allow this with the proper lighting.
Use a simple dark colored wall that is lined along the sides with a white or beige color that will allow the light to bounce back toward the child from the dark wall. Action baby poses are natural and bring out the best of a baby's nature.
Getting baby photos in motion require your shutter speed to be set on high and never use the flash directly which may distort the picture or cause unneccessary shadows.
Movement pictures are difficult to keep in focus and if you find you are having trouble with this, switch to black and white or change the autofocus mode on your DSLR to Al Servo. You could also try shooting in burst mode and take a series of shots. Then keep the best ones.
Bringing out the best of a child in a posing session is one of the most difficult types of photography that there is. You are working with movement, emotions, and lack of understanding and strange surroundings.
Practice your shots beforehand with a friend's baby to get the feel for different types of baby poses that can be utilized in your studio. You may find one area where babies are drawn to naturally.
My little girl used to love sitting in her rocker while my son preferred being photographed on his bean bag. They were around 6 months old at this stage.
If so, capitalize on this area and make it more appealing. If you need inspiration, I have included 20 colorful, large, high quality pictures that you can get ideas from in
Fabulous Baby Photography
.
You can also try looking through stock photography sites or on
Flickr
to find ideas for your baby poses photos.
Doing baby shoots for money and studio portrait pictures is not for the amateur but with practice and some training, you can become professional. By gaining a distinct reputation in the area of newborn baby portraits and posing, you can earn a full-time income from your hobby. There are alot of baby showers each year and you can be there to capture the memories for friends and family.
Word gets around fast among parents and before you know it, you will have a specialized field of photography. Parents are willing to pay over $100 for the best baby photos and you may get a few who want a full baby book shot.
A good way to get started is by creating your own online gallery to present your best images and ideas.
Learn How To Take Better Baby Photos
If you want to learn more about photographing babies and capturing the best infant poses and images, then a great resource to help you take your own professional looking baby snaps is
Fabulous Baby Photography
by Mark McKnight from Digital Photography Tricks.
Throughout this 28-page special report, you will learn tips and techniques for getting the right composition, what equipment is best for baby poses and also which settings to start with to achieve the shot you desire .
It also contains 20 colorful images to help and inspire you with ideas to create your own top quality baby portrait pictures. Available instantly to download and print with a full money back guarantee.
---
Didn't find what you're looking for? Search here...
Custom Search
---
Return from Baby Poses to Photography Poses
Return from Baby Poses to Digital Photography Tricks